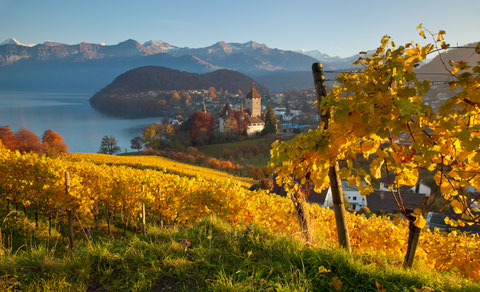 Welcome to Spiezer Alpine Wine Culture
Our vineyard is one of the most high-lying vineyards north of the Alps. Lake Thun's balanced clima, the right variety of vines as well as the warm southern wind called 'Föhn' allows us to produce beautiful, fresh, lively Spiezer White Wines and our Reds are known for their sophistication, elegance and fruityness.
A glass of Spiezer reflects the pre-alpine landscape and does not need to shy away from other Swiss professional competitors.
Genuine, not interchangeable and candid, true character Spiezer Wines are known for their quality.
A good wine is like poetry, invites to savour peacefully and tells the story of our 'terroir', of lake winds and mountain sun that allow us to produce un-imitable wines.
– fresh and lively our white wines
– enticing and playful our Rosé
– elegantly dry and sophisticated our red wines
Experience our Wines and their authentic origins on and guided tour and tasting or stroll through our vineyard by yourself.
Winery Opening Hours:
Wine–Shop
Monday – Fridays 8 to 11.30 
Wine–Shop and tasting
Wednesdays 17 to 19 and
Saturdays April – June, 9 to 11.30
(Closed on Saturdays before holidays)
Tasting Fee
Tasting fee is SFR 15.– and allows you to taste a variety of wines. The tasting also includes bread and cheese from the bernese Oberland. 
We will be happy to help with any questions:
Spiezer Alpine Weinkultur
Rebbau Spiez Genossenschaft
Schlossstrasse 8
3700 Spiez
phone +41 33 654 63 94
mail: info@alpineweinkultur.ch