Erlebnispfad Rebberg April 4/12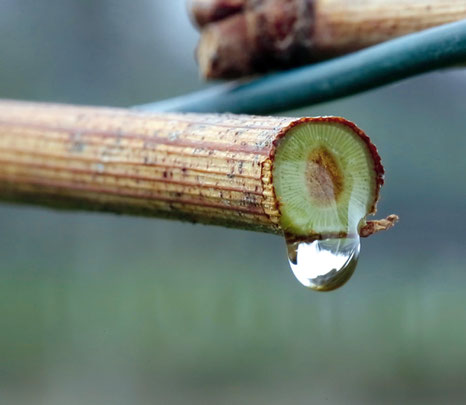 Es ist zum Heulen
Wenn es den Reben zum Heulen ist, dann gleich literweise! Der mineralische Saft desinfiziert die Wunden der abgetrennten Triebe. Ein Schutz vor Pilzen und Bakterien. Schützen tun auch die roten Pheromon-Fäden. Die männlichen Traubenwicklerschädlinge finden so die Weibchen nicht mehr, was die Population natürlich klein hält.
Crying and healing
If the vine is crying, then by the liter! It disinfects the wounds of the separated shoots with the mineral juice. This serves to protect against fungi and bacteria. The red pheromone threads also provide protection. The male grape moth pests no longer find the females, which naturally keeps the population small.
Schreck lass nach
Während der Traubenreife im Herbst, ertönt ab und an der Raubvogel-Imitator im Rebberg, auch Vogelschreck genannt. Schwärme hungriger Vögel können so auf natürliche Art vom Traubenpicken abgehalten werden. Vogelnetze sind teuer und weniger umweltfreundlich als dieser Raubvogel- Imitator oder Hagelnetze.
What a scare
During the ripening of the grapes in the autumn, you can hear the bird of prey imitator in the vineyard, called the scarecrow. Hungry swarms of birds can be kept from grape-picking in a natural way. Bird nets are expensive and less environmentally friendly than this predator imitator or hail nets.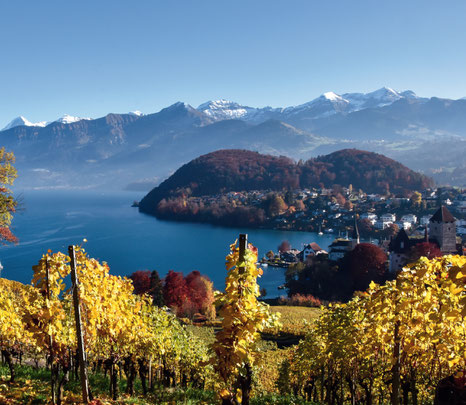 Wie weit hören Sie?
Wann haben Sie zum letzten Mal so richtig bewusst dem Leben zugehört? Summt es über der Wiese oder brummt ein Auto in der Ferne? Wie hell oder dumpf klingt Rebenholz? Wie tönt der Kiesweg unter Ihren Füssen? War das ein Vogelschrei? Drehen Sie an den Regenrohren und lauschen Sie: Erkennen Sie was da rieselt?
Knock on wood
When was the last time you consciously listened to life? Is it buzzing over the meadow or is a car humming in the distance? How bright or dull does the vine stock sound? How does the gravel path sound beneath your feet? Was that the cry of a bird? Turn the rain tubes and listen; do you know what's trickling here?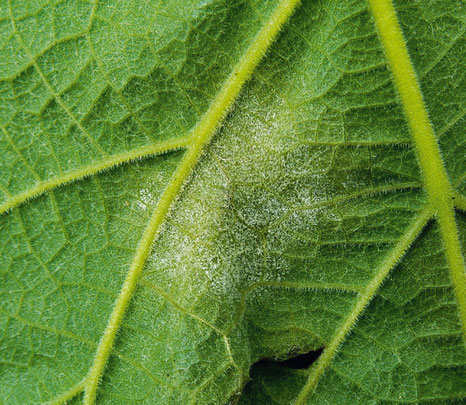 Invasion der Pilze
Wehe, wenn der Winzer seine Reben nicht ständig gut beäugt und die richtigen Massnahmen zur richtigen Zeit ergreift. Denn auch Pilzkrank­heiten wie der echte und falsche Mehltau lauern ums Eck. Sie würden Blätter, Triebe und Beeren innerhalb weniger Tage völlig zerstören.
Fungus invasion
The winemaker would regret not constantly watching his vines attentively and taking the right measures at the right time. Because fungal diseases like real and false mildew lurk around the corner. They would completely destroy leaves, shoots and berries within a few days.