Erlebnispfad Rebberg Dezember 12/12
Video folgt ab Dezember 2017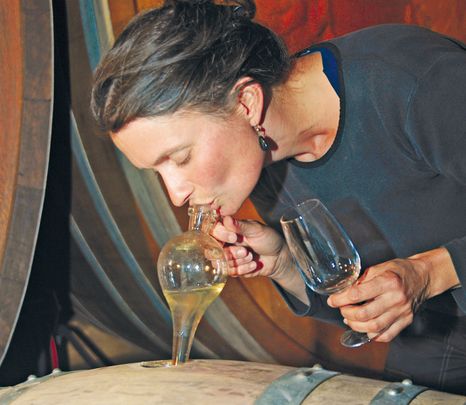 Sternstunden im Schlosskeller
Jetzt herrscht Hochkonjunktur im Schloss­keller. Für beste Qualität muss der Wein gehegt und gepflegt werden. Mit Freude und fachlicher Raffinesse krönt das Keller­team die Weine. Mit jedem Feinschliff reift der Wein zu seinem Ideal heran. Spiezer Weine sind mehrfach prämiert worden. Die Belohnung für die unermüdliche Arbeit im Rebberg und im Keller.
Great moments in the castle cellar
Now there is a boom in the castle cellar. The wine must be nurtured for best quality. The cellar team crowns the wines with joy and professional know-how. The wine ripens to its ideal with every refinement. Spiezer wines have been awarded several prizes. The reward for tireless work in the vineyard and cellar.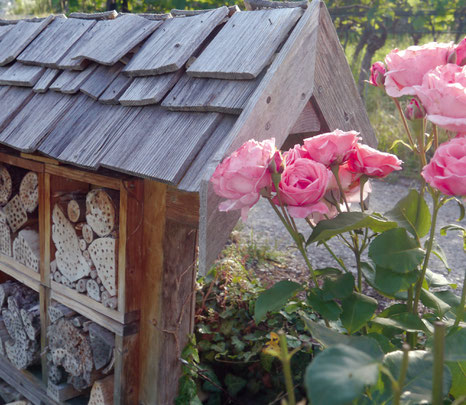 Ein Hotel für die Kleinsten
Auch für die emsigen, harmlosen Wild­bienen ist gesorgt. Die aufgestellten Wildbienenhotels bieten ihnen ideale Bedingungen für die Vermehrung. Die Bienen bestäuben unzählige Pflanzen und bringen die gesammelten Pollen und den Nektar für ihren Nachwuchs ins Hotel. Beobachten lohnt sich!
A hotel for the smallest
The busy and harmless wild bees are also cared for. The huts provided for wild bees offer ideal conditions for their propagation. The bees pollinate countless plants and bring the collec­ted pollen and the nectar into the huts for their offspring. Watch and enjoy!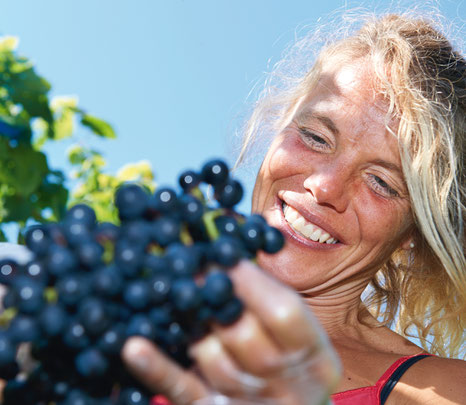 Danke für Ihre Unterstützung
Der Spiezer Rebbau wird aus Leiden­schaft, Freude am Winzern und an der Natur betrieben. Herzlichen Dank allen engagierten Mitarbeitern, freiwilligen Helfern, gut gesinnten Menschen und Weinkäufern! Mit dem Kauf von Spiezer Weinen zu fairen Preisen helfen Sie mit, die Kulturlandschaft und die Erholungs­oase Spiezer Rebberg langfristig zu erhalten.
Thanks for your support
The operation of the Spiezer vineyard is driven by passion, joy of wine­making and love of nature. We would like to thank all our dedicated staff, volunteers, good-natured people and wine buyers! With the purchase of Spiezer wines at fair prices you help to preserve the cultural landscape and the recreation oasis that is the Spiezer vineyard in the long term.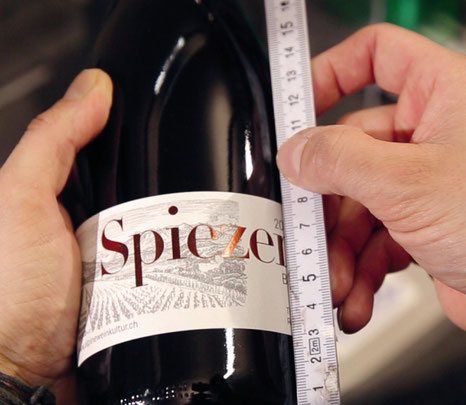 Fairer Preis für faire Löhne
Rund 20'000 Arbeitsstunden stecken jährlich in der Spiezer Weinproduktion. Pro Flasche sind das ca. 20 Minuten Arbeits­zeit und CHF 10.– Lohnkosten. Hinzu kommen Material, Neuanschaffungen, Reparaturen und Unterhalt. Da wird schnell klar, wieso im Steilhang fair produzierte Qualitätsweine keine Billigprodukte sein können.
Fair price for fair wages
Around 20,000 working hours are spent annually for Spiezer wine production. Per bottle that means about 20 minutes' working time and CHF 10 labor costs. Additionally, materials, new purchases, repairs and maintenance are incurred. It quickly becomes clear why fair quality wines produced on the steep slope cannot be cheap products.